Being the largest city in the Baltics, Vilnius lies at the crossroads of East and West. Such a central location makes a capital city easily reachable by plane, train, bus or car.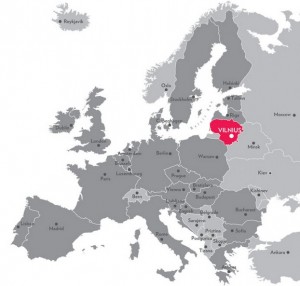 By plane
Vilnius is easily accessible by air from all major European cities. It takes never more than three hours to fly from many European cities and "hubs" including Barcelona, Paris, Copenhagen, London, Frankfurt. The Vilnius International Airport is located just outside the centre of Vilnius. It is only 7 km/15 min driving distance from the centre of the city. Access to the city is quick and inexpensive. Guests can use buses, train and taxi services. City buses No. 1, 2, 88, 3G run from/to the airport every 10-15 min. Buses No. 1, 2 go to the train station. Bus No. 3G goes to the city center and north over the river past Radisson Blu Hotel Lietuva, the biggest conference hotel in Vilnius. Bus No. 88 goes to the City Centre, Old Town and north over the river, passing by many Vilnius hotels. Buses are located outside the Arrival Hall. Tickets can be bought from the driver for 1 EUR. A special train runs from Vilnius Airport to the main train station. The journey takes just seven minutes. The airport train station includes a passenger lift and is located directly in front of the airport. Tickets are sold on board for just 0,72 EUR. Train schedule can be found at www.litrail.lt. Taxis can be found outside the Arrival Hall or they can be ordered in Vilnius Tourist Information Centre at the Arrival Hall A. The price for a taxi from the airport to the centre is around 10 EUR. For up-to-date information on flights, schedules, new routes and airlines see www.vno.lt.
By Train
Lithuania has a well-developed rail network. Direct rail links between Lithuania and Belarus, Russia and Poland provide convenient and inexpensive connections. Vilnius is the focal point for rail connections in the region. Vilnius Railway Station is situated close to the Old Town, just accross the street from the bus station. You will get to the Old Town in ten minutes on foot going straight ahead down the hill. The city centre can be reached by trolleybuses No. 1, 2, 7, 20 and buses No. 1G, 53. Taxis are parked up in a number of places nearby. Routes and schedules are available at www.litrail.lt.
By Bus
There is a choice of international bus lines connecting Vilnius with other European cities. Buses are the cheapest but least comfortable method of reaching Vilnius. There are direct buses to the capital city from many European countries. Routes and schedules are available at www.eurolines.lt and www.ecolines.lt. The city's bus station is centrally located. It is only a five-minute walk distance to the main train station and ten minutes to the Old Town. Public transport can be found in the immediate area. The city centre can be reached by trolleybuses No. 1, 2, 7, 20 and buses No. 1G, 53. Tickets can be bought from the driver for 1 EUR. Taxis are parked up in a number of places near the station.
By Car
Vilnius can be reached by using the following routes:
Vilnius – Kaunas – Klaipėda, highway A1 (E67, E85, E28) 311,40 km
Vilnius – Ukmergė – Panevėžys, highway A2 (E272) 135,92 km
Vilnius – Minsk, highway A3 (E28) 33,99 km
Vilnius – Varėna – Gardinas, highway A4 34,46 km
Vilnius – Utena, highway A14 95,60 km
Vilnius – Šalčininkai – Lyda, highway A15 (E85) 49,28 km
Vilnius – Prienai – Marijampolė, highway A16 (E28) 137,51 km
Speed limits for motorcars on highways from 1 April to 31 October is 130 km/h, from 1 November to 31 March -110 km/h. On roads with asphalt or concrete pavement the speed limit is 90 km/h, on other roads the speed limit is 70 km/h.
Visas
Lithuania is a member of the European Union and the Schengen area. Visitors from the EU as well as from 30 or so other countries including Australia, Canada, Japan, New Zealand, Singapore, South Korea and the United States don't require a visa to stay for up to 90 days within a six month period. A visa issued for any Schengen country is also valid in Lithuania. For more information look at www.urm.lt.
Public Transport
Vilnius has an effective and cheap network of trolleybuses, buses and minibuses. They start running at around five in the morning and stop at midnight.
The Vilnius Citizens Card (Vilniečio Kortelė) is a form of electronic ticketing used on public transport in Vilnius. It is valid on trolleybuses and buses and can hold single 30 or 60 min. tickets, tickets valid for 1, 3 or 10 days as well as monthly passes, which must be added to the card prior to travel. The card is available at press kiosks and costs 1,50 EUR. Single tickets for trolleybuses or buses cost 0,64 EUR – 30 minutes and 0,93 EUR – 60 minutes. The card may be recharged at press kiosks. Passengers should touch the card onto electronic reader after boarding the trolleybus or bus in order to validate the ticket. Single paper tickets can be bought from a driver for 1 EUR and it will be valid for the whole journey, till the last stop of the itinerary.
Taxi
Numerous taxis operate in Vilnius. When getting to the city from Vilnius International Airport we strongly recommend to take a taxi booking service at Vilnius Tourist Information Centre at the Arrival Hall of the International Vilnius Airport. You will get the customer-friendly fares, there are no booking fee. Taxis can also be hailed in the street or found at ranks at strategic spots in the Old Town and city centre. They can also be ordered at a cheaper rate by telephone. Taxis hailed in the street can be expensive and not always of the best quality. Fares are displayed on meters and include service. Tips are paid at the passenger's discretion. The average cost within the city is up to 15 EUR. It is recommended to ask for the receipt in advance. Taxi numbers can be found here.